Dive anywhere in southern California. Really.
With over 7,000 underwater sites in our database, we can get you there.
Photo © Amanda Cotton
World renowned SCUBA diving destinations
With visibility between 50 ft. and 100 ft., you can really appreciate our diverse fish and invertebrate life. Our waters are colder, so we recommend diving with a 6.5mm wetsuit or dry suit for best comfort.
Get tickets now
Kelp forests provide habitats for myriad sea creatures that photographers, wreck divers, ecologists, and spear fishermen appreciate. Our top dive sites, Catalina, San Clemente, Santa Barbara, and San Nicolas Islands show the best of our reefs and kelp forests. We also are home to great intact shipwrecks, the Olympic II, the Palawan, the USS Moody, and the Ace I.
All our dive sites are accessible from our landing in Long beach
Join us for a single or multi-day trip
With too many dive sites to name, we've listed a few of our most popular sites.
Let us know your desired type of dive and preferred maximum depths so we can recommend the best sites for you.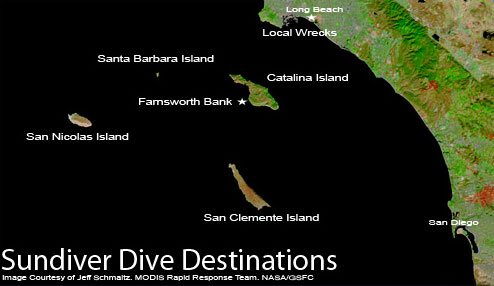 Santa Monica Bay to Palos Verdes Peninsula
Star of Scotland
Owens Wreck
Sailboat Wreck
Long Wharf
American Boy
Ameco
LCM3
Palawan
Sacramento
Avalon
Dominator
Southern Lights
Jenny Lynne
Santa Clara
Radio Tower
Los Angeles to Long Beach
Olympic II
The Caissons
USS Moody
Ace I
Georgia Straights
FS Loop
14 Minute Wreck
February 19th Wreck
Southwest Wreck
Centennial (Dipley's)
Fog Wreck
East Fog Wreck
Chain Wreck
Monfalcone (Gambler)
Orange County
Sunset Wreck
Gary's Barge
Savino's
Elsie I
Barge Rock
HB Trawler
HB Barge
Margaret F.
Corsair
P-38 Lightning
Frontier
Izor's Reef
Cleo Street Barge
San Diego
Ruby E
El Rey
NOSC Tower
Ingram Street Bridge
HMS Yukon
P-38 Lightning
F-4 Phantom
High Seas
S-37
USS Hogan
TBM Avenger
Lobster Wreck
Cape Charles
Deep Array
Polaris Tower
San Nicolas Island
Macassar Straights
USS Cabiildo
Catalina Island
Valiant
Toro
Grumman Goose
Starlight Wreck
Blue Cavern Wreck
Piper
Charles F. Crocker
Palmyra
S.N. Castle
Dreamer II
Diosa Mar
San Clemente Island
John C. Butler
Koka
No Name Tug
Gregory
White Eagle
Tiara
Sportboat Wreck